CSV to XML
Advanced CSV Converter itís an inexpensive and easy-to-use utility designed to convert CSV to XML. To convert CSV to XML you need to take only three steps: select an CSV file and output xml file, verify if the default settings are what you need and begin the conversion. Advanced CSV Converter allows you convert csv files to xml format from GUI or command line.
1. Select the csv file (or select folder with csv files for batch conversion).
2. Select the output xml file (or select folder for xml files).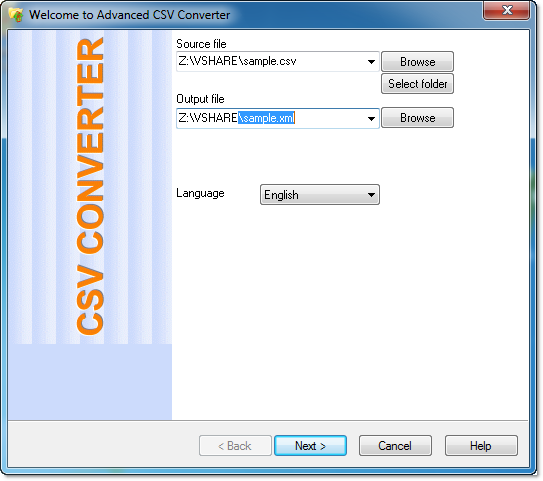 3. Preview, select options for sorting, filtering data (if necessary)
You can also select/unselect columns, set order for columns.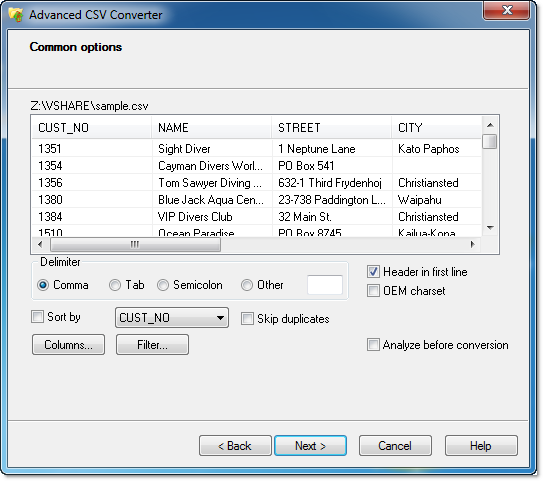 Convert CSV to XML via command line
"c:\Program Files\CSV Converter\csvcnv.exe" file.csv outfile.xml [/FILTER|/COLUMNS|/SORTBY|/SRCSEP|/STARTFROM|/WFILTER ]
Simple csv to xml conversion
"c:\Program Files\CSV Converter\csvcnv.exe" sample.csv sample.xml
Convert csv to xml with columns selection
"c:\Program Files\CSV Converter\csvcnv.exe" sample.csv sample.xml /COLUMNS:NAME,STREET
Convert csv to xml with filter
"c:\Program Files\CSV Converter\csvcnv.exe" sample.csv out.xml /FILTER:myfilter.txt
Convert csv to xml with sorting order
"c:\Program Files\CSV Converter\csvcnv.exe" sample.csv sample.xml /sortby:SUM
Cconvert csv to xml with TAB as delimiter in source file
"c:\Program Files\CSV Converter\csvcnv.exe" sample.csv sample.xml /SRCSEPTAB
Convert csv to xml with PIPE as delimiter in source file
"c:\Program Files\CSV Converter\csvcnv.exe" sample.csv sample.xml /SRCSEPPIPE
Convert csv to xml from line 3
"c:\Program Files\CSV Converter\csvcnv.exe" sample.csv sample.xml /STARTFROM:3
CSV to XML batch conversion
"c:\Program Files\CSV Converter\csvcnv.exe" c:\base\*.csv c:\out /TOXML
Using Wide filter
"c:\Program Files\CSV Converter\csvcnv.exe" sample.csv out.xml /wfilter:NY