Paradox Converter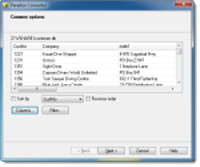 Paradox Converter enables users to convert Paradox files (DB files) to other formats, such as DBF, XLS (MS Excel), XML, CSV, HTML, or SQL. To do so, the program offers a simple GUI interface, where you set the source and output folders and then specify the output settings. There is no need for users to mess around writing conversion scripts as in Paradox Converter the conversion task can be completed so easily in just a couple of clicks.
Converting Paradox files to other formats is very accurate. Users can set up a filter for each field. It's also possible to sort by export. The converter supports batch conversion that lets users convert an unlimited number of DB files to another format at once with no need for the user to attend to the process. Another nice touch in the converter is command line support. Paradox Converter does not require external drivers for connection to databases (ODBC, BDE). Paradox Converter runs on all versions of Windows from 95 through XP, Vista, Windows 7/8 and Server Editions (32/64-bit)
Registered users will receive all future versions and upgrades free, as well as virtually unlimited technical support.
Download
Buy Now
Last update:
January 18, 2013
Paradox Converter v2.29 released
Here You can subscribe to the Paradox Converter mailing list, where we will provide you with latest information about upgrades and other topics concerning this program .