Paradox Converter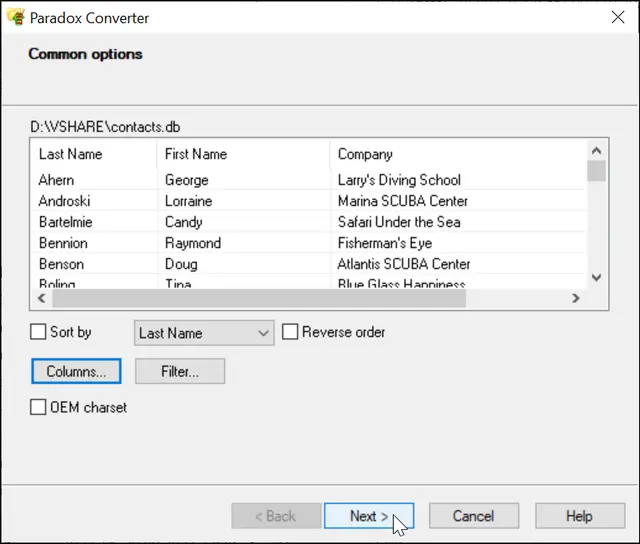 Paradox Converter allows you convert Paradox files (DB files) to DBF, Excel(XLS, XLSX), CSV, SQL (MySQL, SQL Server, Oracle), TXT, XML, RTF, XML and HTML.
Batch Processing
So, you have more than one Paradox database to convert? Look no further, as Paradox Converter does the job quickly and silently. With the support for multiple databases to process, Paradox Converter is capable of converting dozens or even hundreds of DB files in 100% automatic mode. No questions asked, no harm done, the program intelligently transforms all your databases to the selected format or formats.
Ingenious Flexibility
For more complex tasks more advanced methods are required. Paradox Converter offers command line support for scheduled conversion of databases, complex filters for partial transferring of data to new formats and flexible sorting for custom presentation of data.
Paradox Converter does not require external drivers for connection to databases (ODBC, BDE). Paradox Converter runs on all versions of Windows from XP through Windows 11/10/8/7 and Server Editions (32/64-bit)
Paradox Converter
Key Features
Convert Paradox to DBF (dBase III/IV, Visual Foxpro)
Convert Paradox to SQL
Convert Paradox to XLS
Convert Paradox to XLSX
Convert Paradox to CSV
Convert Paradox to XML
Convert Paradox to TXT
Convert Paradox to HTML
Full Command Line support
Registered users will receive all future versions and upgrades free, as well as virtually unlimited technical support.