Advanced CSV Converter, the official site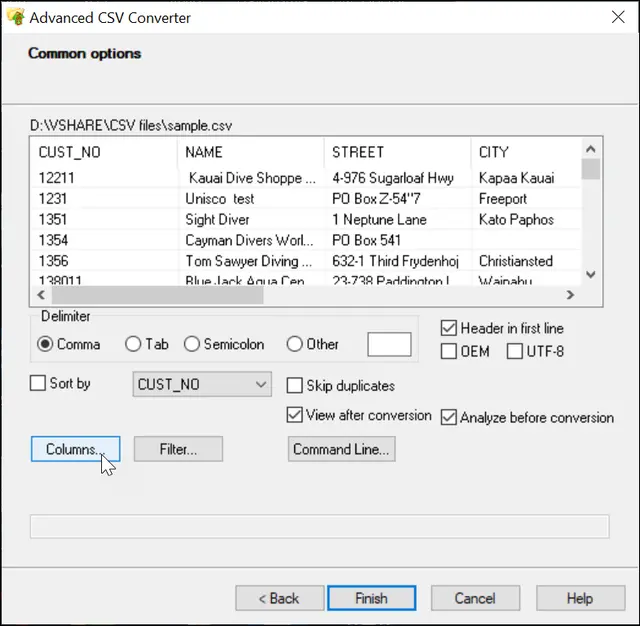 Despite hundreds of online CSV conversion tools around, you still struggle to get things done? Stop looking, get back to basics. This offline software is an example of a tiny yet mighty tool stuffed with tons of functions. In literally three steps you can convert multiple CSV files to any popular format you want, all in one go. And even if those files are really large and hence are difficult to upload somewhere.
Extremely simple software to convert CSV
When you cannot afford investing hours on manual conversion of loads of existing CSV files to other formats, or have idiosyncrasy to uploading megabytes of CSV files to third-party online CSV converters, take a look at Advanced version.
The program is lightweight, simple and extremely fast. Download it in less than a minute, install, then open the CSV file to convert and select the destination format. The remaining conversion steps Advanced CSV Converter performs automatically producing a file in the selected format containing your carefully transferred CSV data.
Who needs Offline converters?
In fact, range of potential applications is wide. Here are just some:
Import CSV data to a database. Use Advanced CSV Converter to turn your CSV files into SQL commands for MySQL or Oracle. Then, just feed them to your online database.
Prepare calculations in Excel. Yes, Microsoft Excel can import CSV too, but the more files you have, the bulkier and more time-consuming becomes the standard importing procedure offered by Excel. With the our software, you can do the same in a matter of minutes, not hours.
Convert CSV data to more easily readable formats, such as HTML or formatted text.
Prepare CSV data to use in web apps. Many web apps require input data to be in JSON or XML formats.
Create reports. Take data from CSV format and convert them to RTF or HTML, then apply formatting and you are done.
Here is why Advanced CSV Converter rocks
Effortless conversion to 10+ formats
Specifically, the program supports conversion of CSV to DBF, CSV to XLS/XLSX, CSV to XML, CSV to JSON, as well as to text, tab-separated values file, RTF, SQL and PRG. The procedure is equally simple regardless of the output format.
Quickly proceeds hundreds of CSV files
Tell the program a folder containing all you thousands of CSV files waiting in a queue to be converted. Click the button. Now, the program automatically scans the folder and converts all CSV in it to the selected resulting format. Enjoy the result!
Partial CSV conversion
If you need to filter the data before actually exporting them from CSV to DBF or XML, you can do this. Select fields and records you want to transfer. Or use a magic filter to convert only those parts of the file that match your criteria.
Fast conversion
No queues, no waiting time. The program uses the entire computational capabilities of your PC and grinds through the contents of source CSV files with the speed of light. The program delivers arguably the fastest conversion on the market.
Good for novices and pros
Thanks to its very simple user interface, this CSV conversion tool is very friendly to newbies. Your grandma could use Advanced CSV Converter to turn her CSV files to JSON or to DBF (if she had ones in the first place). And pros can benefit from command line support for nice automation possibilities.
Works anywhere
Even if you have an older PC, you still can run the program. Converter supports any Windows versions starting from the ancient Windows XP to the latest Windows 11. The program doesn't need any third-party libraries, nor does it install junk software you didn't ask for.
Features:
Fast and accurate conversion
Works with large files (> 4GB)
Supports CSV, TSV and PSV formats
Converts to DBF (dBase III/IV, Visual Foxpro), Excel files (XLS,XLSX), SQL, TXT, Fixed Width Text, HTML, PRG, XML, RTF, TSV and JSON formats
Simple and friendly interface
Advanced functions for experts
Can filter data to export
Selective export of columns
Supports both local encodings and Unicode
Command line support for 100% automatic conversion
Extremely easy to use
Customer Reviews 2023
"I wanted to see how big a file I could convert with the CSV Converter. I downloaded the 2 million records of the GNIS Features table (see below) from the United States Geological Survey. Advanced CSV Converter created an Oracle SQL script with table creation with the correct field lengths and types and insert commands in under a minute.

GNIS contains records on more than 2 million geographic names in the United States, including populated places, schools, lakes, streams, valleys, and ridges. It includes all feature types except for road and highway names."

Alex Campbell
Registered users will receive all future versions and upgrades free, as well as virtually unlimited technical support.