Advanced CSV Converter, the official site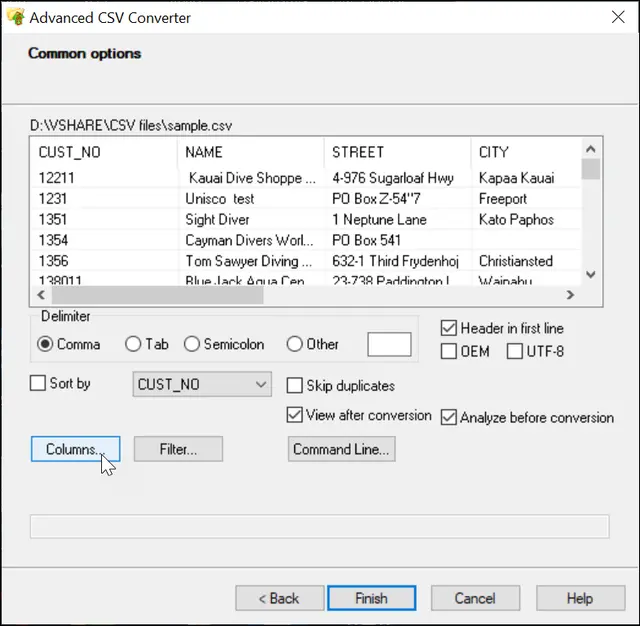 Advanced CSV Converter allows you convert CSV files to DBF, Excel spreadsheet (XLS, XLSX), TXT, SQL, XML, Fixed Text and RTF.
Working with the program takes as little as opening a file or selecting a folder with CSV files, choosing conversion settings and clicking the "Convert" button. The, the application takes the given CSV file or files and automatically converts data fields from them to the specified format.
Why Advanced CSV Converter is
Unique

?

Surely, there are dozens of CSV conversion tools around, but only Advanced CSV Converter delivers astonishing performance and accuracy of conversion in a user-friendly and time-efficient way. Here is what you get:
Convert CSV to 10+ formats.
Advanced CSV Converter lets you convert a CSV file to DBF (dBase III/IV, Visual Foxpro), Excel files: XLS,XLSX, SQL, TXT, Fixed Width Text, HTML, PRG, XML, RTF, TSV and JSON formats.
Set Filters with Advanced CSV Converter
Often, you don't need all of the records exported from CSV. To filter out what should be exported and what not, Advanced CSV Converter features customizable filters to perform certain queries based on the given sample, or set a conversion filter.
Save hours thanks to multi-CSV conversion
What if you have hundreds of CSV files? Would it not be madness to convert them manually? Take Advanced CSV Converter instead, and it will deal with all of them in just one go. Simply specify the folder where those CSV files are.
Command Line support
With Advanced CSV Converter you can use all of its capabilities from the command line. This allows you to schedule and automate CSV conversion or write complex scenarios using third-party tools.
Convert CSV in 3 steps
Regardless of encoding, delimiter settings, formatting and the number of CSV files, the process is always the same with Advanced CSV Converter: pick the file or files, select the output format and the destination folder, configure conversion settings. Just three steps and you're done!
Save on buying multiple apps.
The app is versatile and all-functional. When usually you need to buy multiple tools to deal with multiple formats, Advanced CSV Converter lets you save on buying other apps. It works absolutely independently on any third-party tools and libraries. It doesn't need ODBC or BDE to function. And it feature effortless CSV conversion to 10 formats with exhilarating speed.
Supports large CSV files
Convert extra huge CSV and Text files (> 4GB).
All Windows Versions
Advanced CSV Converter runs on all versions of Windows from XP through Server 2022 and Windows 7/8/10/11 (32/64-bit)
Customer Reviews 2023
"I wanted to see how big a file I could convert with the CSV Converter. I downloaded the 2 million records of the GNIS Features table (see below) from the United States Geological Survey. Advanced CSV Converter created an Oracle SQL script with table creation with the correct field lengths and types and insert commands in under a minute.
GNIS contains records on more than 2 million geographic names in the United States, including populated places, schools, lakes, streams, valleys, and ridges. It includes all feature types except for road and highway names." - Alex Campbell
Registered users will receive all future versions and upgrades free, as well as virtually unlimited technical support.