CSV to HTML
Advanced CSV Converter will provide for quite simple and rapid transformation from CSV files into HTML files. Innovative CSV Converter helps you to transform CSV to HTML file format from GUI or CL, it is also possible to choose columns, customize filtration preferences and much more. On a side note, professional CSV Converter will not necessitate having Excel program from Microsoft Office.
1. Select the csv file (or select folder with csv files for batch conversion).
2. Select the output html file (or select folder for html files).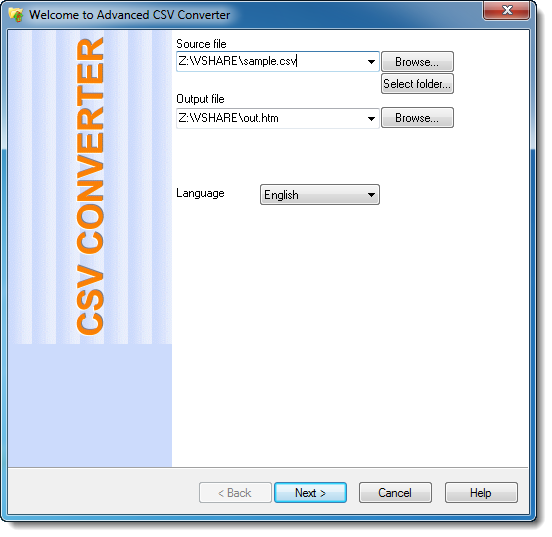 3. Preview, select options for sorting, filtering data (if necessary)
You can also select/unselect columns, set order for columns.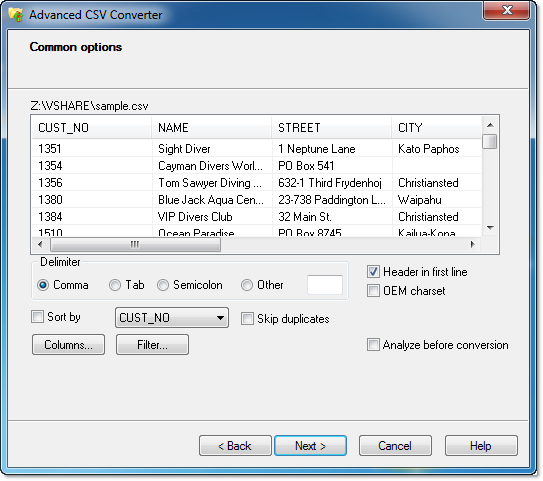 3. Select options for HTML format (if necessary)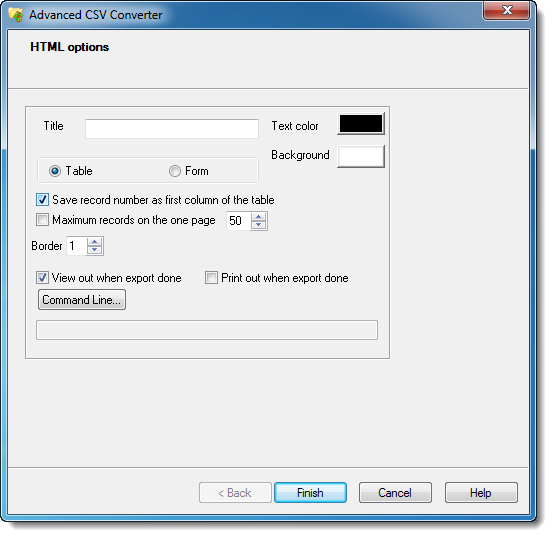 Convert CSV to HTML via Command Line
"c:\Program Files\CSV Converter\csvcnv.exe" file.csv outfile.htm [/FILTER | /COLUMNS | /SRCSEP | /STARTFROM | /SORTBY] [/TITLE | /MAXPERPAGE | /ASFORM | /COLOR | /BACKGROUND]
Simple CSV to HTML conversion
"c:\Program Files\CSV Converter\csvcnv.exe" sample.csv sample.htm
Convert CSV to HTML with columns selection
"c:\Program Files\CSV Converter\csvcnv.exe" sample.csv sample.htm /COLUMNS:NAME,STREET
Convert CSV to HTML with filter
"c:\Program Files\CSV Converter\csvcnv.exe" sample.csv sample.htm /FILTER:myfilter.txt
Convert CSV to HTML with custom delimiter in source file
"c:\Program Files\CSV Converter\csvcnv.exe" sample.csv sample.htm /SRCSEP:
Convert csv to xls with pipe as delimiter in source file
"c:\Program Files\CSV Converter\csvcnv.exe" sample.csv sample.htm /SRCSEPPIPE
Convert CSV to HTML with sorting order
"c:\Program Files\CSV Converter\csvcnv.exe" sample.csv sample.htm /sortby:DATE
Convert CSV to HTML from line 10
"c:\Program Files\CSV Converter\csvcnv.exe" sample.csv sample.htm /STARTFROM:10
Set limitation per page
"c:\Program Files\CSV Converter\csvcnv.exe" sample.csv sample.htm /MAXPERPAGE=100
Conversion as form (one row per page)
"c:\Program Files\CSV Converter\csvcnv.exe" sample.csv sample.htm /ASFORM
CSV to HTML batch conversion
"c:\Program Files\CSV Converter\csvcnv.exe" c:\base\*.csv c:\out /TOHTM
Using Wide filter
"c:\Program Files\CSV Converter\csvcnv.exe" sample.csv mypage.htm /wfilter:Jim
Updated Thu, 12 Oct 2023