Convert CSV to DBF
Advanced CSV Converter allows you convert csv files to dbf file format (dBase III/IV, Visual Foxpro) from GUI or command line.
1. Select the csv file (or select folder with csv files for batch conversion).
2. Select the output dbf file (or select folder for dbf files).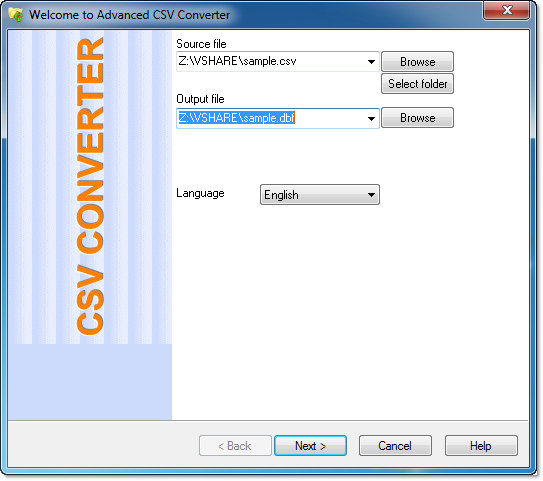 3. Preview, select options for sorting, filtering data (if necessary)
You can also select/unselect columns, set order for columns.
To set types and sizes you can use Columns Editor (button "Columns")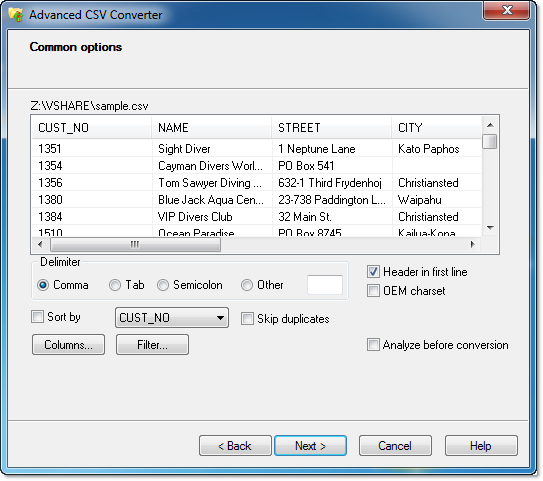 CSV to DBF Command Line
"c:\Program Files (x86)\Advanced CSV Converter\csvcnv.exe" file.csv file.dbf [/FILTER | /WFILTER | /COLUMNS | /DBASE3 | /VFP | /TYPES | /SETHEADER | /LOG]
Simple CSV to DBF conversion
"c:\Program Files (x86)\Advanced CSV Converter\csvcnv.exe" myfile.csv mytable.dbf
Convert CSV to DBF with setting types
"c:\Program Files (x86)\Advanced CSV Converter\csvcnv.exe" sample.csv out.dbf /TYPES:NAME:C50,ID:N10,SUM:N10.2,Date:D
Using templates
"c:\Program Files (x86)\Advanced CSV Converter\csvcnv.exe" myfile.csv mybase.dbf /template:mytemplate.tc
Setting custom header
"c:\Program Files (x86)\CSV Converter\csvcnv.exe" sample.csv out.dbf /TYPES:NAME1:C50,ID1:N10,SUM1:N10.2,Date1:D /setheader
Convert CSV to DBF with columns selection
"c:\Program Files (x86)\Advanced CSV Converter\csvcnv.exe" sample.csv out.dbf /COLUMNS:NAME,ID /TYPES:NAME:C50,ID:N10
Convert CSV to Visual Foxpo
"c:\Program Files (x86)\Advanced CSV Converter\csvcnv.exe" myfile.csv mybase.dbf /VFP
CSV to DBF batch conversion
"c:\Program Files (x86)\Advanced CSV Converter\csvcnv.exe" c:\mybase\*.csv c:\mybase\ /TODBF
Batch conversion with Wide filter
"c:\Program Files (x86)\Advanced CSV Converter\csvcnv.exe" c:\mybase\*.csv c:\mybase\ /WFILTER:Jim /TODBF
Updated Wed, 29 Sep 2021
Average customers rating: 4.67 (1057 Votes)