CSV to XLS Converter
Comma Separated Values (or CSV) is a simple file format for storing spreadsheet and database information. Using a CSV file allows for fast and secure storage of large spreadsheets for importation into another application. CSV Converter provides for very simple and fast conversion from CSV files into XLS files (.xls is the file format actually used by Microsoft Excel – the market leading spreadsheet tool on the market today). Advanced CSV Converter allows you convert csv to xls format (excel tables) from GUI or command line. Advanced CSV Converter does not require Microsoft Excel.

1. Select the csv file (or select folder with csv files for batch conversion).
2. Select the output xls file (or select folder for xls files).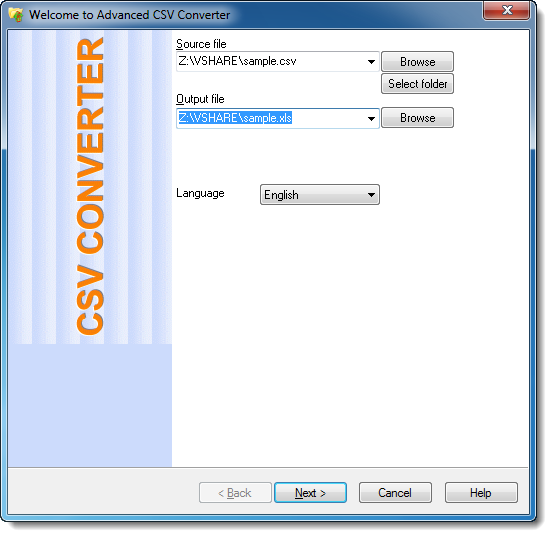 3. Preview, select options for sorting, filtering data (if necessary)
You can also select/unselect columns, set order for columns.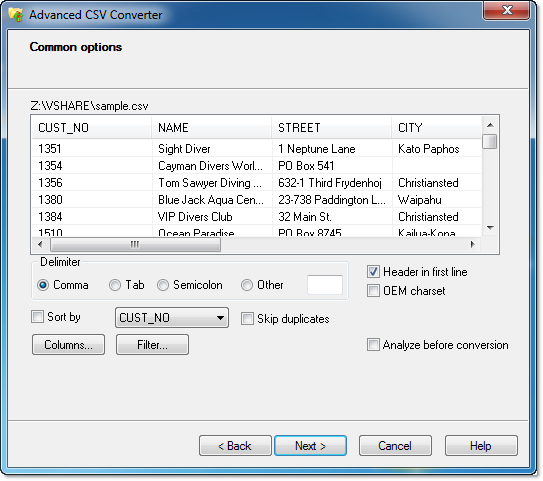 CSV to XLS conversion via command line
"c:\Program Files\CSV Converter\csvcnv.exe" file.csv outfile.xls [/AUTOFORMAT | /FILTER | /COLUMNS | /NOWRITEHDR | /SRCSEP | /STARTFROM | /SORTBY]
Simple CSV to XLS conversion
"c:\Program Files\CSV Converter\csvcnv.exe" sample.csv sample.xls
Convert CSV to XLS with columns selection
"c:\Program Files\CSV Converter\csvcnv.exe" sample.csv sample.xls /COLUMNS:NAME,STREET
convert csv to xls with filter
"c:\Program Files\CSV Converter\csvcnv.exe" sample.csv sample.xls /FILTER:myfilter.txt
Convert CSV to XLS with custom delimiter in source file
"c:\Program Files\CSV Converter\csvcnv.exe" sample.csv sample.xls /SRCSEP:
Convert CSV to XLS with pipe as delimiter in source file
"c:\Program Files\CSV Converter\csvcnv.exe" sample.csv sample.xls /SRCSEPPIPE
Convert CSV to XLS without header
"c:\Program Files\CSV Converter\csvcnv.exe" sample.csv sample.xls /NOWRITEHDR
Convert CSV to XLS with sorting order
"c:\Program Files\CSV Converter\csvcnv.exe" sample.csv sample.xls /sortby:DATE
Convert csv to XLS from line 10
"c:\Program Files\CSV Converter\csvcnv.exe" sample.csv sample.xls /STARTFROM:10
Converting with auto formating
"c:\Program Files\CSV Converter\csvcnv.exe" sample.csv sample.xls /autoformat
CSV to XLS batch conversion
"c:\Program Files\CSV Converter\csvcnv.exe" c:\base\*.csv c:\out /TOXLS
Using Wide filter
"c:\Program Files\CSV Converter\csvcnv.exe" sample.csv table.xlsx /wfilter:Mike
Convert CSV files to single Excel table
"c:\Program Files\CSV Converter\csvcnv.exe" c:\base\*.csv table.xlsx
Setting Sheet Name
"c:\Program Files\CSV Converter\csvcnv.exe" table.csv report.xls /sheetname:report

Updated Fri, 10 May 2019