DBF to CSV
DBF Converter allows you convert a single dbf file or folder with dbf files to csv format from GUI or command line.
1. Select the dbf file or foder with dbf files for batch conversion.
2. Select the output csv file or folder for csv files for batch conversion.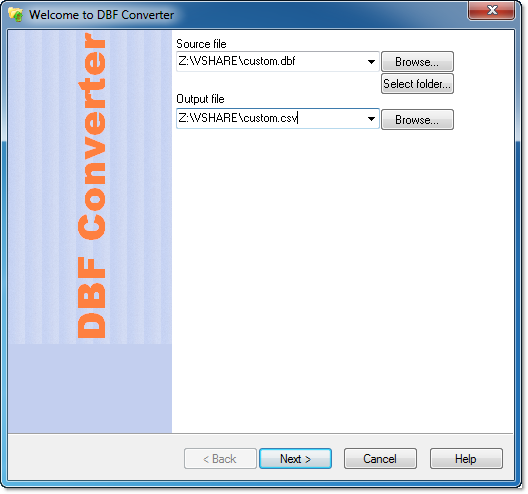 3. Preview, select options for sorting, filtering data (if necessary)
You can also select/unselect columns, set order for columns.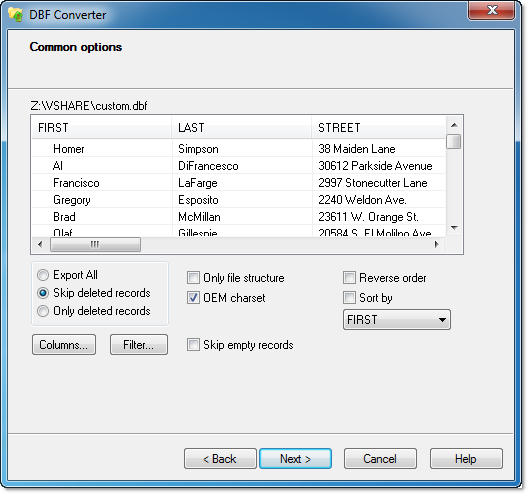 4. Select options for csv format:columns delimiter, rows delimiter (if necessary), and click "Finish"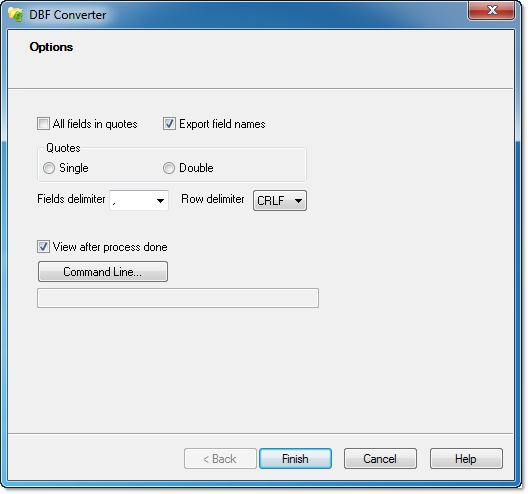 Convert DBF to CSV via command line
dbfcnv.exe base.dbf out.csv [/HDR | /FILTER | /COLUMNS | /COLUMNSLIST | /REVERSE | /OEM | /SEP | /SEPTAB | /SEPPIPE | /SEPSPACE]
Simple dbf to csv conversion
"c:\Program Files (x86)\DBF Converter\dbfcnv.exe" sample.dbf sample.csv
Convert dbf to csv with columns selection
"c:\Program Files (x86)\DBF Converter\dbfcnv.exe" sample.dbf sample.csv /COLUMNS:NAME,STREET
Convert folder with dbf files to csv format
"c:\Program Files (x86)\DBF Converter\dbfcnv.exe" d:\base\*.dbf d:\out\ /TOCSV
DOWNLOAD
for FREE
Updated Wed, 25 Sep 2019