Create DBF File
DOWNLOAD
for FREE
DBF Viewer 2000 allows you create DBF files (dBase III/VI, Foxpro, Visual Foxpro) on the fly.
To create a new DBF file, open File | New menu.
New DBF file dialog box opens.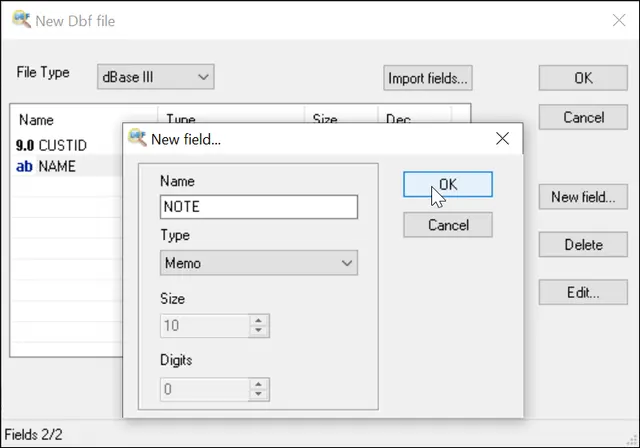 To add a new field, click the New field button and fill in Field, Type, Size, and Digits.
To delete the field, click "Delete".
To Import/Append fields from other DBF file, click "Import".
Use arrow up and down buttons for ordering the fields
Select the type of the file in File Type drop-down list below.
On completing, click OK. In Save As dialog box specify the file name and click Save button.
Create DBF File via Command Line
"c:\Program Files (x86)\DBF Viewer 2000\dbview.exe" /create:d:\DBF\myfile.dbf /fields:ID:N10,NAME:C20,MYDATE:D
DOWNLOAD
for FREE
Updated Tue, 19 Sep 2023
See also: DBF to Excel, DBF to SQL, DBF to CSV, Filtering records, Sorting records in dbf file, Command line options
Back to DBF Viewer 2000 Home