Using Menu File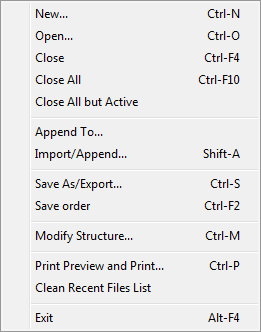 New command
Hot key: Ctrl-N
Displays the New dialog for creating a DBF file.
Open command
Hot key: Ctrl-O
Displays the open dialog for opening the existing DBF file.
Multiple selection is available.
See also: Opening DBF files
Apend To command
Appends records from current file to other DBF file.
Append command
Hot key: Shift-A
Appends records from Text files (comma separated, tab separated or other) or Excel (XLS,XLSX), Paradox, DBF files
Save As/Export command
Hot key: Ctrl-S
Displays the export dialog: export to DBF, Text , PRG, CSV, XLS, XML, SQL, SDF, HTML, RTF files
See also: Export dbf files to other formats
Save order command
Hot key: Ctrl-F2
Save records as displays order
See also: Sorting records in dbf file
Modify command
Modify DBF file structure: Add fields, Delete and editing fields
Hotkey: Ctrl-M
See also: Modifying dbf file structure
Print command
Hotkey: Ctrl-P
Prints records from file. If you want to print not all columns, select the necessary columns on the Fields Info dialog (Shift-F2).
Back to DBF Viewer 2000 Home