Filling records in DBF File
You may fill one or several records with a record number, constant or sequence. To fill the record in dbf file, select it in the list and click Edit | Fill menu. Fill dialog box opens.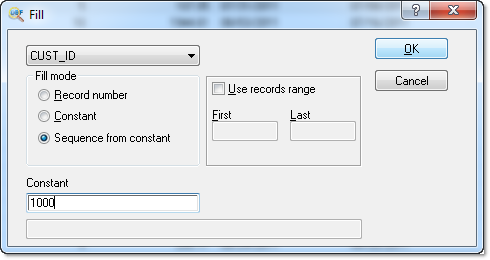 Select the field that you want to fill in the upper drop-down list.
Select a Fill mode:
| | | |
| --- | --- | --- |
| | • | Record number: the corresponding number will be substituted |
| | • | Constant or Sequence from constant. |
| | | |
Fill in the Constant edit box below. If you have chosen Sequence from constant, set the initial figure that will be increased for each record.
Optionally check Use records range to specify the interval of records to be filled: type in First and Last records.
Click OK.